We all know that organic traffic to our site is an import — but how important to our overall success? Smart Insights data suggests that up to 94% of click-throughs are still on organic search listings, rather than PPC (Pay per click). 
In addition to getting to being the primary method leads people to the information are seeking, MOZ states that organic search results have 5.66x the opportunity to convert that SEO does — that's significant!
With organic traffic still an important — and free — approach to driving traffic to our sites, how do we get the best SEO results from Magento 2 sites? We have collected ten easy ways that you improve your organic traffic with the following techniques.
1.  Eliminate duplicate content
Magento can create URLs that lead to pages with the same content. This is a big 'no-no' with Google and can reduce the ranking of pages associated with this content. To eliminate the possibility for this to occur, Magento provides the ability to use canonical links, which defines a 'preferred' page if more than one page of the same content exists, thereby eliminating the Google's view of multiple pages with the same content.
You will find the canonical links option by navigating to Stores >> Configuration >> Catalog >> Catalog >> on right side scroll down to Search Engine Optimization and set Canonical LINK Meta Tags for Categories and Products to Yes.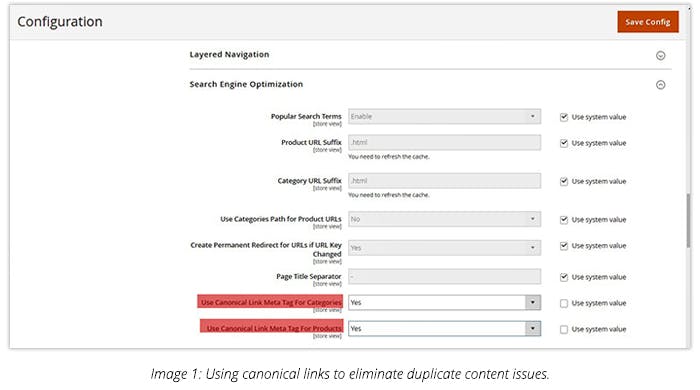 2. Maintain a current XML sitemap
Google and other search engines rely on updated XML sitemaps to more efficiently crawl your site. Search engines are looking for every opportunity to improve their efficiency, as they have billions of pages to crawl each day. A current sitemap removes the need for the search engine scour your site to find links in brute force manner.
Magento 2 is equipped with an excellent XML sitemap generation tool built in. You can enable the XML sitemap tool by navigating to Stores >> Settings >> Configuration >> Catalog >> XML Sitemap.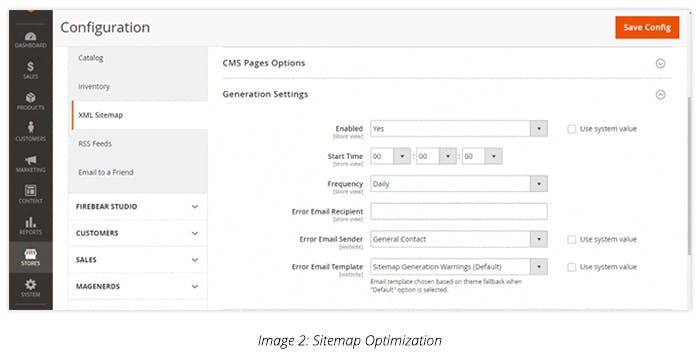 Finally, on Search Engine Submission Settings, set the Enable Submission to Robots.txt to Yes and save changes.
Since Magento 2 doesn't generate HTML sitemap by default, it is recommended to implement some extensions. These extensions will help in auto-generate HTML sitemap, manage links, listing orders, and store view.
 3. Optimize images
Image optimization is a multi-headed beast — in other words, there are multiple aspects to image optimization that affect SEO. Here is a quick checklist of items must be addressed for each image within the site that search engines will consider in their ranking algorithms.
Use ALT tags. The alternative or ALT text is an attribute defined at the time one creates the image name and description attributes. Screen readers primarily use the ALT text to support the visually impaired who may be visiting a website. In addition, search engines want to confirm that the alt text aligns with the other page and image content.
Use image descriptions. An image description gives more details than alt text and allows someone to learn more about what is in an image that goes beyond alt text. Alt text gives the user the most important information while image descriptions provide further detail.
Use informative image file names. Search engines look to the image name as the first clue about the subject of the image. The name affects how 'findable' the image is within the search engines image search and how appropriately the image supports the content of the page. For instance, going from 'blackbird' to 'Red-Winged-Black-Bird-Sitting-on-Fence' makes the image name very descriptive — one that you can imagine in your mind's eye.
Reduce the image weight (i.e. resolution and bit depth). Reducing the weight reduces image loading time and, therefore, improves the page loading and website performance perception. In addition to the human experience, Google and other search engines look for image sizes and total page weights that are appropriate for the type of device being targeted.
To add or update the ALT text for a product image within Magento 2, navigate to Products >> Catalog >> in Configurable Products Double click on thumbnail >> Go to the detail page >> scroll down to Images and Videos >> Double click on images >> add ALT text in the given field.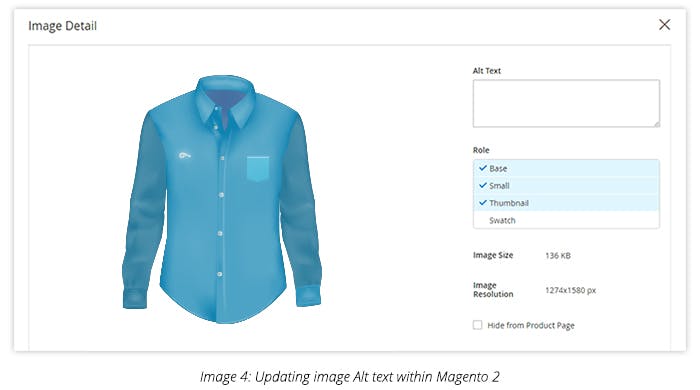 There are various extensions that can help you in optimizing images for your Magento 2 site. Here is a list of current Magento 2 Image Optimizer extensions that you should consider, in addition to the native fields provided by Magento.
4. Update meta tags
Upon creating your store, Magento will auto-generate both the title and description meta tags for your product detail page. These are inadequate to properly describe your product on the page. Thoughtful titles and descriptions must be created that reflect your product.
Title. Title tags (50-60 characters) are displayed on search engine results pages (SERPs) as the clickable link, on your page's browser tab, and as the primary headline when your page is shared within social networks. The title is working hard to communicate the essence of your page—it must be an accurate and concise description of your content.
Description. This 159-character (including spaces) description is what people see on the SERP (Search engine results page) that describes your link. It is what entices people to click through and drives the conversion from the SERP to your site. Though not a large component in affecting your page rankings, do not underestimate its power to affect pull-through to your page.
You can add meta tags for products, product category, and content pages within Magento. To access SEO configuration for a page, navigate to Products > Basic Settings > Search Engine Optimization and edit the values.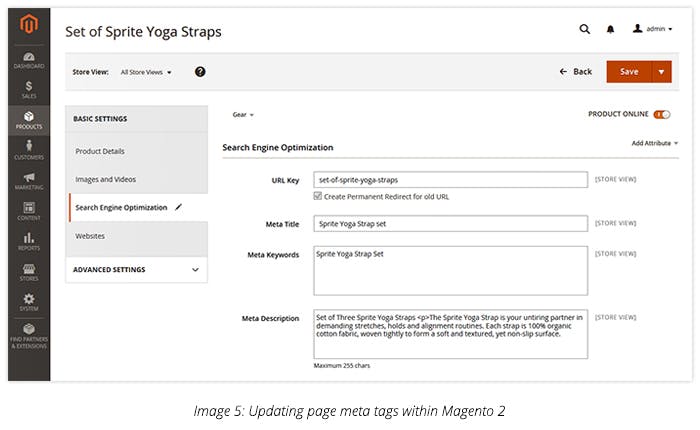 5. Increase page performance
Web page performance has become a larger component of Google's algorithm in determining the page rankings, especially for mobile websites. Not only does page performance impact SEO, but it is a significant differentiator in customer experience and conversion rates.
The subject of page performance was covered in detail in a previous GSPANN blog called 10 Ways to Speed Up Magento Sites, but because it can significantly affect rankings, it warrants a quick review here. Here is a summary of the items that are covered in the previous blog.
Use the most current version of Magento.
Use a content delivery network (CDN).
Use all the Magento caching opportunities.
Use the flat catalog module.
Optimize image sizes.
Merge and minify JavaScript and CSS.
Use the Magento compiler.
Optimize your MySQL installation.
Consider alternatives to Apache.
Find a fast hosting provider.
6. Configure Magento 2 Robots.txt
Communicating effectively with search engine crawlers is crucial for SEO optimization. Generate and manage instructions for web crawlers about the pages that need to be indexed or avoided completely.
To modify your Robots.txt in Magento 2 just go to the Stores >> General >> Design >> Edit custom instruction of robots.txt File.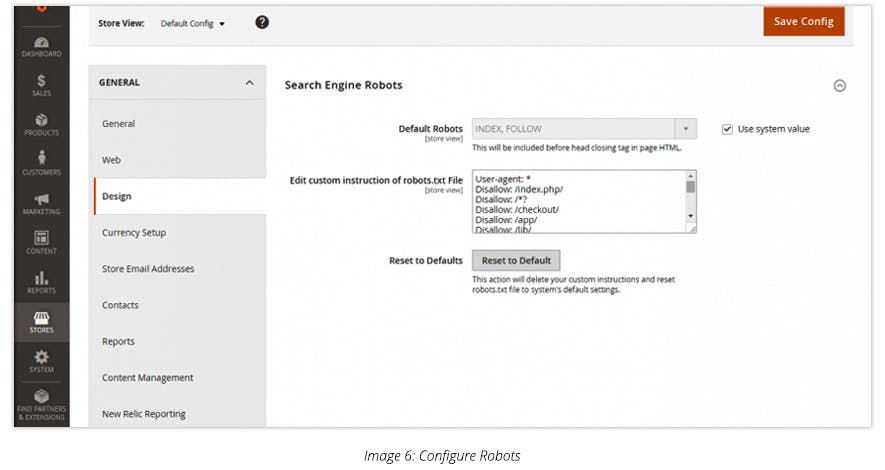 7. Create long-form content
You may think of an e-commerce site where you have short, crisp descriptions of products. That may be true that people prefer short content, but it is certainly not what search engines prefer. Increased word count (of useful, relevant content) does lead to better page rankings than short-form content.
Studies have shown that the of the top 10 pages for a subject, almost all had word counts over 2000. That may not be practical for daily content generation, but for specific topics that are important to your organization and its products, it may worth the investment of time and effort.
Long-form content can be expressed as detailed guides, educational pieces, customer stories, and company blog posts. Weave in the keywords and phrases that you know people will search for while providing differentiating content that cannot be found in other places.
Magento has extensions that make it easy to create and maintain blogs that you can explore at Magento 2 Blog Extensions.
8. Create inbound (or backlinks) to your site
Inbound or backlinks are those links point to your pages from other sites. These links may be pointing to your evergreen content, like your long-form content that others find educational or entertaining and would like to share with their own audience.
Google looks at the number of backlinks as an indicator of your content popularity and significance to people. With increasing backlinks to your content, your page rankings increase. The dependency is the long-form content — it is unlikely someone will link to a sweater that is gone out of season within three months.
People want long-term (i.e. evergreen) content that they know will be there when their audience clicks on their suggested link.
9. Configure search engine-friendly (SEF) URLs:
Humans and search engines alike appreciate meaningful, readable, and useful URLs. People like to read a URL that makes sense to them, that tells them what the page is about without even seeing the page. The same goes for search engines that want to associate the URL with the content that they are crawling.
To enable Magento 2 SEF URLs, navigate to Stores > Configuration -> General > Web and expand the Search Engine Optimization section and change the value of Use Web Server Rewrites option to Yes and save the changes.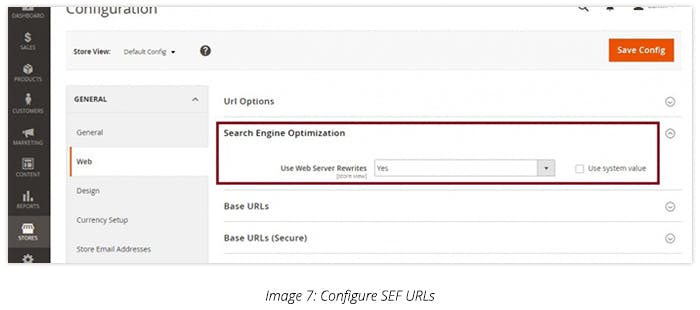 10. Update to the latest Magento version
Magento team is active in providing minor platform upgrades every 2 months and major upgrades every quarter. It is recommended to upgrade the platform regularly to keep up with the features, such as SEO support, security, performance improvements, bug fixes, and code enhancements.