The ever-growing competition in the market has compelled many large corporations to opt for multi-brand strategy. They have different websites for each brand to target various customer segments, countries, markets, and regions with similar or specific content. However, managing multiple websites comes with a unique set of challenges.
In most of the cases, the companies want websites of these brands to have unique identities while retaining the common look and feel of the parent group to increase brand awareness. According to a study by Content Marketing Institute, 89% of B2B marketers consider brand awareness as the most important goal, followed by sales and lead generation.
Key Challenges in Managing Multiple Websites
Let's briefly discuss some specific challenges that multi-brand companies, maintaining different websites, face.
Consistency
According to Lucidpress, there is a 23% average revenue increase accredited to always presenting the brand consistently.
It is difficult to showcase websites of multiple brands in a way that has consistency in terms of look and feel, especially if those brands target different consumer demographics. Maintaining the consistency across different brands becomes even more difficult as the number of websites grows. They need to have some provision for migrating content, settings, and more, across the websites. 
Separate Control
Often, these websites are not just separate brands but different businesses altogether, which is why companies may have different teams managing these websites. In such a scenario, each team needs to have separate admin panels and access to the website's resources with defined user permissions.
Determining Profitability
The plan to launch a business/unit or brand with a new website is on the basis of many assumptions, market studies, and future forecast that may not turn out as expected. The company needs to keep a close watch on each of these brands/websites as a separate business unit to take appropriate decisions if things do not turn out the way they were supposed to. This requires an in-depth analysis of performance reports of each specific website.
Managing Translations
While handling translated content, the to-and-fro of information can be cumbersome. Ensuring that the right content gets updated on the right page and in the right section requires a lot of effort. Even a minor mistake in terms of coordination can lead to an unexpected blunder. Additionally, the delays that may happen in forwarding or uploading the content may lead to bad customer experience or loss of leads.
Layout Issues
Layout issues arise when translated content uploads in a layout designed for the original language. Multiple words can represent a single word in different languages or the length of the word (no. of characters) might differ. Page elements, such as menus, buttons, pop-up boxes, and more, do not always have enough space to accommodate longer words for different languages. Adjusting more words can break either the element or the entire page layout, resulting in wrapping or overlapping of elements.
Why Choose AEM to Create Multiple Websites?
Most content management tools that are available on the market support multi-language websites to some extent. The reason why any brand should use Adobe Experience Manager as a preferred content management system (CMS) is because of its 'Live Copy' and 'Language Copy' features.
Let's understand these features with the help of an example: A multinational mobile handset manufacturer wants to sell a mobile model in three different countries. It wants to retain the website layout while only changing the language for the targeted countries. On choosing AEM, the company can build one website in English and then perform Language Copy for other versions in different languages.
On the second instance, if the same company is offering three different models in three countries that fall in the same language region, no translation is necessary. However, since the offering is different, each website will contain different content. In such a scenario, the company can develop a base website with all the information of the three models and use 'Live Copy' to create each branch website.
Let's discuss more of these features in the next section.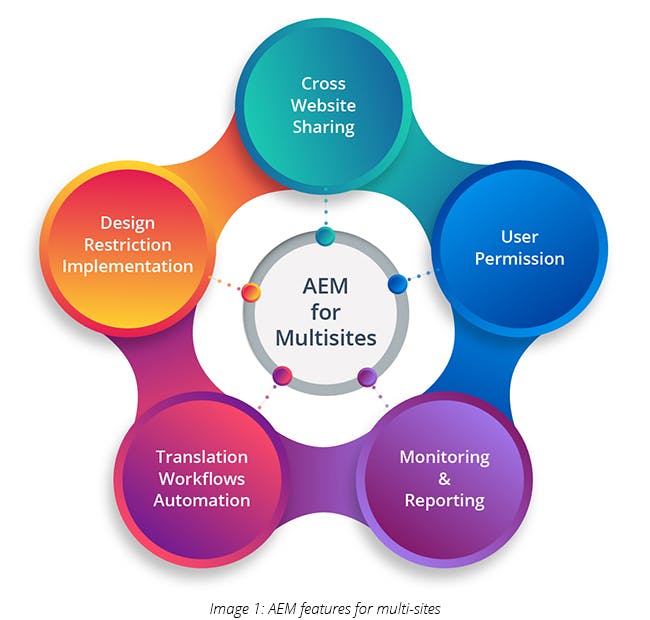 1. Multi-site Manager (MSM) for Cross-website Sharing
AEM has a multi-site manager that allows users to manage and maintain multiple sites easily. It enables users to share content and reuse/replicate configuration and code across all their sites. As a result, users can effortlessly manage multiple websites that share common content.
Additionally, MSM allows AEM developers to define relations between the sites. Thus, the content changes in one site replicate automatically in all other sites that significantly reduces the time to manage the websites and increases the re-use of common content.
Utilizing AEM's MSM, brands can maintain common look and feel (consistency) across all websites.
2. User Permissions for Each Business Unit 
AEM has a robust user management system that makes it easy to manage users and assign them permissions. You can allow/restrict a user group to see specific content, so that they don't accidentally delete/modify any content, with just a few clicks. Additionally, there are different levels of permissions you can assign to a user. For example, you may allow a junior executive to view content but not publish it.
3. Monitoring & Reporting
AEM has inbuilt comprehensive monitoring and reporting tools that saves users from the pain of installing any add-on plugins. After initial configurations, users can check statistics of specific sites and generate reports for certain events. It can integrate with the existing analytical platform if the user is already using one. As a result, the user can closely monitor each website as a separate strategic unit and take decision accordingly.
4. Translations Workflow Automation
AEM comes with a translation manager that allows users to automate the workflow of the translation of a web-page content as well as user-generated content. Users can integrate translation service providers with AEM and create projects for translating content into multiple languages.
AEM supports both human and machine translation workflows. In the former, content is sent to the translation provider chosen by the user. After the translation is complete, the content imports into AEM automatically.
5. Implementing Design Restrictions 
AEM supports character limits and other validation rules within the content authoring interface of a component that are easy to establish and enforce. Generally, when character limits are not in place, either the text in buttons is comfortably wrapped within the element, or the element expands. However, sometimes, both of them are not possible without disturbing the design of the element/layout. Such restrictions ensure that only the content which can probably fit in the layout is uploaded.
Organizations Using AEM for their Multi-Brand Websites
According to Enlyft, more than 7,643 companies use AEM.
Majority of companies are in the U.S., which is followed by UK and Canada.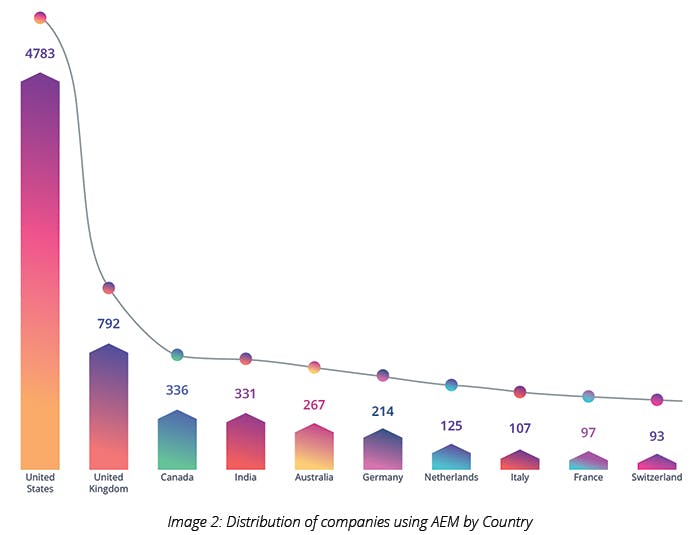 It is being used extensively in the computer software and IT industry.
Considering the initial cost involved in the implementation of AEM, it is surprising to see that 59% of the companies using AEM are small (<$50M), while 24% are large (>$1000M) and 9% are mid-sized.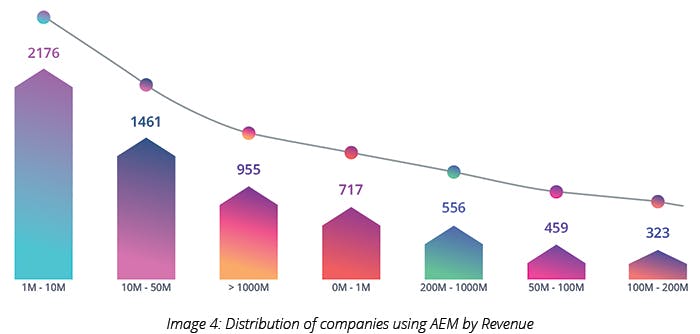 The list includes some of the known names such as Deloitte, Hyatt, Microsoft, Mastercard, Motorola, Nissan, Philips, RBS, Sky, T-Mobile, GSK, Cisco, Samsung, Crisil, Idea, Ford, McAfee, AT&T, and many more. Most of them are managing multiple sites with AEM.
Final Words
AEM is a robust content management system, which is quickly gaining popularity with both small and large organizations that are investing aggressively to build their brand identity. By integrating AEM with other tools in the Adobe Suite, a brand can quickly reply to the rapidly evolving needs of the customer and differentiate themselves from the competition.
GSPANN has successfully implemented AEM for many e-commerce and IT companies. We have a pool of AEM developers that can easily develop a website based on AEM and configure it according to specific business requirements.