How many particular items or stock-keeping units (SKUs) do you have in the warehouse, distribution center, stores, and other locations? If your team doesn't have an answer to this question in real-time, your multichannel operations are destined to suffer. The impact on customer experience is multifold when it comes to BOPIS or 'Buy Online, Pick-Up in Store' offerings.  
It's essential to have a good understanding of Salesforce Commerce Cloud (SFCC) inventory management when offering the BOPIS feature to customers. You must decide the right inventory approach for your brand - implementing BOPIS using the legacy tools (with customized behavior) or choosing the new 'Omnichannel Inventory Management' option.
Inventory In Salesforce Commerce Cloud
SFCC offers out-of-the-box features in a basic storefront inventory tracking functionality. It works with an external inventory management system, where the external system helps in recording inventory data.  
Another SFCC feature includes B2C Commerce availability, tracking, and inventory data exchange with an external system, depending on your business needs. B2C Commerce can import inventory data at regular intervals to keep you from overselling.  
GSPANN's Salesforce Commerce Cloud competency combines e-commerce expertise with user experience and business practice, delivering sustainable and competitive solutions.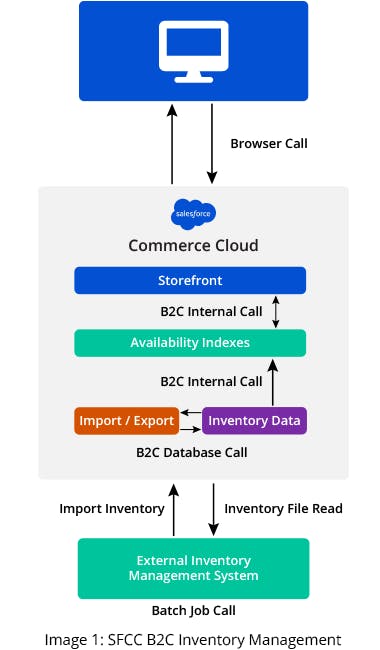 What is BOPIS
From a technology management standpoint, the terms "Buy Online, Pick-Up in Store," "In-Store Pick-Up," and "Curbside Pick-Up" entail similar functionality. The purpose of BOPIS is to allow customers more flexibility by purchasing the product online and picking it up from a nearby brick-and-mortar store.
A BOPIS fulfillment functionality enabled on the SFCC storefront, or mobile app avoids time-intensive customer browsing sessions in-store and guarantees that an item is available for purchase. It's a good way for the customer to save last-mile shipping costs and avoids wasted time sitting at home waiting for the ordered product to arrive. This approach also gives customers a better consumer experience when buying products in person and allows them to move seamlessly between selling channels as they see fit.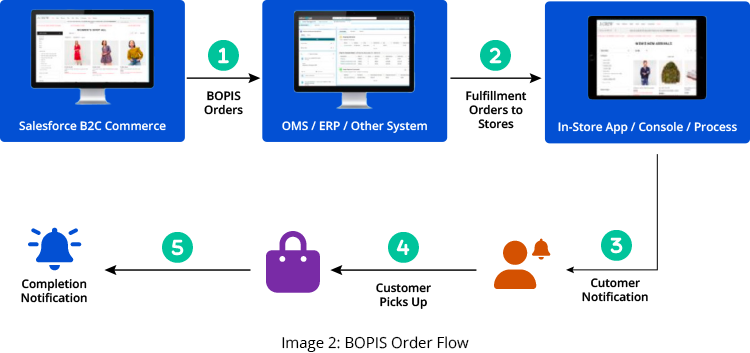 Benefits of BOPIS
There are many benefits to the BOPIS approach. One advantage is that this approach saves money for both your company and the customer by avoiding high shipping costs. Of course, you could pass the costs on to the customer, but that too has a downside in losing competitive advantage and costs for returns.
Another advantage is that your business can fulfill orders faster and more efficiently as inventory movement is entirely under your control. Not relying upon third-party shipping means you are better positioned to ensure orders are filled promptly, increasing customer satisfaction, and enhancing your company's reputation.   
It also has a related benefit - because the product is delivered to the customer in-store, it can be considered as having arrived "safe and sound," minimizing the hassle of dealing with online purchase returns. Confirming that the customer has the right product immediately eliminates the problem of wrong product shipments. Although, this does not mean you will not have returns anymore.  
 A definite benefit to companies with an attractive in-store design is increased foot traffic. There is no substitute for having the customer see the product in person. Many buying decisions are made spur-of-the-moment, and customers present physically in the store are more likely to make impulse purchases.  
Finally, BOPIS gives you an effective inventory management system as products need to first pass through the store. Your staff can then physically assess inventory in contrast to B2C arrangements where merchandise might never physically appear in the store. 
Challenges of BOPIS 
The BOPIS approach is not without its challenges. One of the most prevalent challenges is that you need to integrate inventory systems across all channels across all stores.  
Another challenge is that the BOPIS implementation must provide real-time inventory visibility. Many BOPIS implementations fail due to configuration issues. Customers become frustrated and angry when a product they ordered is out of stock when they arrive at the store.  
You may also face logistical issues, such as insufficient physical store coverage, lack of guidance or procedures for customers arriving in the store to pick up items, and customer frustration when confronted with long lines at pick-up points.
Legacy Inventory
There are two main approaches for SFCC BOPIS inventory management: Legacy inventory vs. Omnichannel inventory. Each approach has its pros and cons. Let us first have a look at the legacy approach. 
This table summarizes the pros and cons of the legacy inventory approach: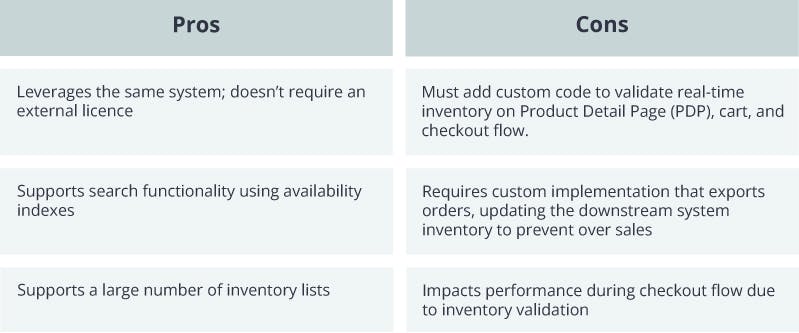 How to use the Legacy Inventory Approach
For BOPIS to work properly in SFCC, inventory data is needed for each fulfillment channel. SFCC supports this feature using the 'InventoryList' object. The business team needs to create a separate inventory list for brick-and-mortar stores and online storefronts.  
You can use SFCC's import functionality to populate the inventory list data. The commerce cloud needs to support out-of-the-box search functionality.  Reliable inventory accuracy is key to preventing oversell on BOPIS. Real-time inventory stock visibility is necessary for a better BOPIS customer experience. 
When to use a Legacy Inventory Approach
The SFCC inventory module has a variety of valuable features, including: 
On-Order inventory 
Pre Order 
Back Order 
Perpetual  
The legacy system already has the basic features required for most needs. Using the legacy inventory is the correct approach if your business does not support the BOPIS feature on storefronts or where only a limited set of products or stores support BOPIS.  
Suppose your OMS (Order Management System) system uses an API call to support real-time inventory validation, batch process inventory, and order creation. In that case, the legacy inventory system also provides the desired output according to business needs. You need to consider validation performance impact. However, you can offset performance loss with a good application design. 
Omnichannel Inventory
Omnichannel inventory management is stock management across all selling channels and includes brick-and-mortar stores, online stores, and social media channels. 
This table summarizes the pros and cons of the omnichannel inventory approach: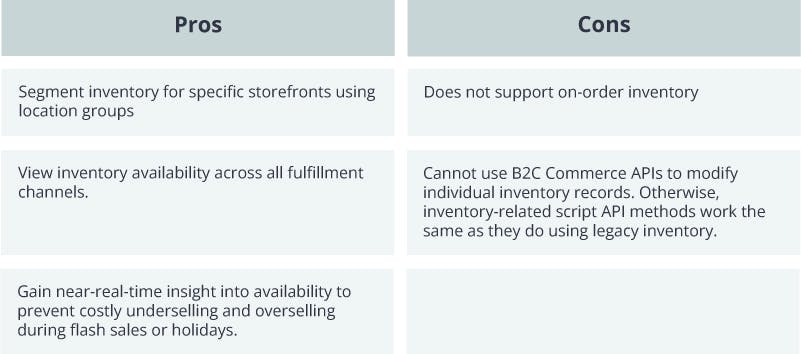 How to Use an Omnichannel Inventory Approach
Salesforce Omnichannel inventory supports data based on location and location graph objects. You can assign locations to location groups according to your business needs and fulfillment processes. You can now populate the inventory data in each area using headless REST APIs.  
Once the location and location graph is set up and data populated, you must enable the cloud-to-cloud connection between SFCC and the omnichannel inventory system. The SFCC inventory list needs to link to the location or location group object using the reference ID.  
This out-of-the-box integration will provide an up-to-date inventory count across your storefronts, fulfillment locations, and store locations. It will give your customer and merchandise teams an accurate, near real-time view of what inventory is available for purchase across all your sales channels.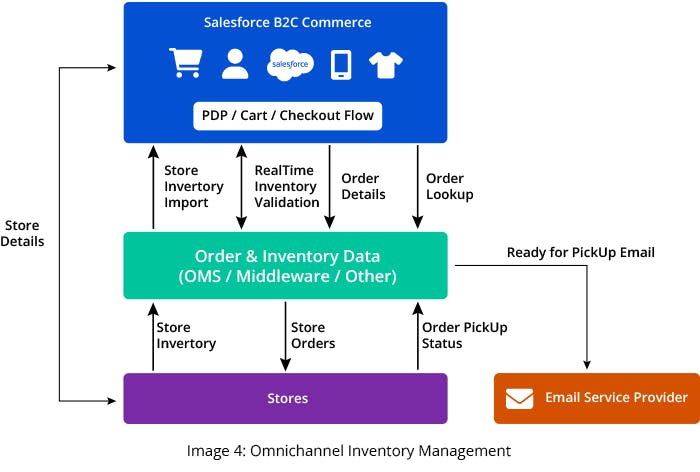 When to use an Omnichannel Inventory Approach
Omnichannel Inventory (OCI) management manages inventory records across all product selling channels. It includes retail stores, e-commerce stores, and social media channels, among others. Businesses that use OCI, in general, have multiple sales channels or fulfillment locations and are looking to provide a few features to shoppers, including: 
BOPIS 
Simplified Inventory Management 
Improved return policies 
In-store returns 
This table provides a side-by-side comparison of both approaches: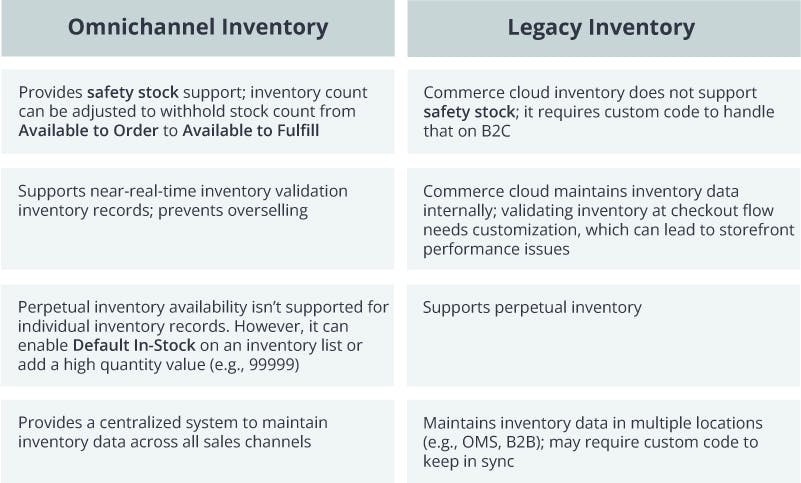 Conclusion
Shoppers continuously crave convenience. Retailers are also effectively utilizing their physical stores as hubs for fulfillment to ultimately place the product in the hands of the consumer at a much faster rate.
The BOPIS approach to sales and order fulfillment gives customers greater flexibility, efficiently manages inventory, and can drive sales. The blog provides a rich overview of BOPIS and its SFCC inventory feature (both legacy and omnichannel) that will work best for your brand.