After carefully analyzing the company's goals and current infrastructure, our Information Analytics team used a combination of tools, including Amazon Web Services (AWS) S3, Google BigQuery, Google Cloud services, Apache Airflow, and Cloud Composer, to provide a viable solution. This solution allowed the company to source, load, and transform omnichannel tag data extracted from Tealium storage into meaningful data sets suitable for advanced analytics.
The TMS data is first loaded into Google Cloud Storage (GCS) buckets from AWS S3 using Cloud Composer. From GCS, the data undergoes sanitization and normalization before being transferred into a BigQuery data lake. The data streams are merged into an Enterprise Data Warehouse (EDW) layer, after which the correlated data is enriched and transformed in BigQuery for various analytical needs. It also offers many use cases for consumption by providing information on 26 different KPIs.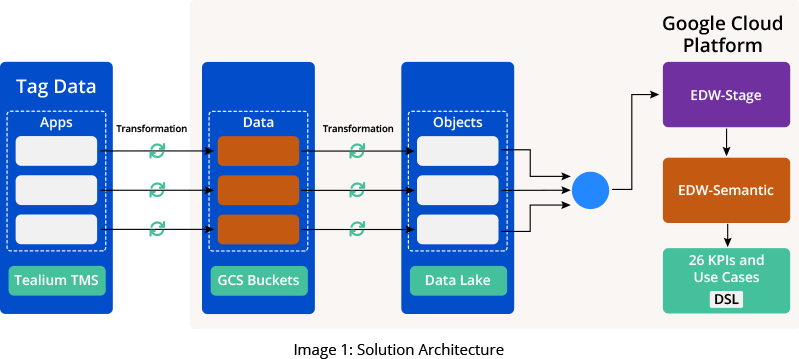 Key points to our solution included:
Captures correct and relevant data aligned with business goals: The new system captures data from the TMS and then adjusts and correlates KPI information. With a clear view into customer activity, the company gains valuable insights to form sound business strategies.
Provides a clear path to move TMS data from AWS S3 into a BigQuery EDW: BigQuery provides comprehensive tools designed to operate on massive amounts of data. It easily manages the raw tag data and provides an excellent foundation for future growth.
A solid platform for use case development: Our solution gives the company access to clickstream attributes to build use cases for session behavior, visitors and visits, user journey, and product engagement and sales.