A Qualitrix study shows that bad experiences cost businesses approximately $4.7 trillion globally. The consumers in the new normal love their comfort. The convenience of getting items delivered at home in a few minutes/hours/days and preference for virtual experiences over in-person conversation has led many brands to rethink their operations, marketing strategies, technology investment, and overall business structure. 
This change in shopping preferences has led brands to adopt the direct-to-consumer (D2C) business model to tell their story and deliver a stellar online experience. Companies are heavily investing in social commerce, video platforms, Q-commerce (quick commerce), and even virtual reality spaces to make available what consumers may desire even before they know it.  
To keep up with the intense competition, retail companies are smartly adapting to innovative technology trends to stay ahead of the curve. 
Let's check out some prevalent technology trends that are shaping the future of the retail industry:  
1. Adoption of omnichannel strategies  
Before we dive deep into omnichannel strategies, let us first clarify that omnichannel and multichannel communication are not the same thing and should not be used interchangeably.  
Multichannel communication refers to using several channels to have customer-service conversations. While it has worked well for brand positioning for some, organizations need something more holistic yet brand-focused to tell their stories to the customers.  
Omnichannel communication offers a cohesive channel that optimizes fragmented conversations for a single brand voice. It views the brand from the customers' perspective, aligns customer interaction with the messaging and objectives of the company, and leverages strong customer relationships in real-time.  
Hence, both omnichannel and multichannel communication consists of multiple channels, but multichannel may not necessarily be part of an omnichannel system. To become a true omnichannel winner, companies must not consider online as a standalone business but rather the number-one portal to all channels, steered and measured to increase their online and offline business. Providing incentives for channel leaders to maximize omnichannel performance is critical to unlocking its full potential.  
For example, Decathlon has doubled its share of online sales every year since 2019, reaching close to 30 percent in 2021 by entirely switching to an omnichannel way of thinking. It launched its marketplace in ten countries in just nine months, leveraging its strong network of stores while expanding its online business.  
GSPANN enabled a Fortune 500 departmental store chain with an extensive e-commerce portal to accelerate omnichannel commerce using cloud microservices. Our solution helped the brand acquire more business using new marketing apps while saving costs on infrastructure. Read all about it here. 
2. Connecting online and offline customer experiences 
As COVID struck, the BOPIS (buy online, pick up in the store) became unsafe. This gave birth to other pickup models like curbside and new payment/delivery methods, introduced to meet this paradigm shift.  
Customers today recognize the power of digital capabilities and expect retailers to present them with a better, easier, and faster experience. As a result, technology giants like Adobe and Salesforce relentlessly release new retail experience features that seamlessly connect online and in-store consumers. Tory Brunker, Senior Director - Product Marketing for Adobe, said, "For retailers to stay relevant, they have to create a unified experience across both the digital and physical world." 
For example, Adobe released mobile messaging capabilities in Adobe Target, part of Adobe Experience Cloud, for retailers to access offline data from returns, loyalty cards, or in-store service engagements. The data is stitched together in Adobe's customer data platform to aid the personalization of product recommendations. 
3. Growth of artificial intelligence-based automation 
Surging customer expectations, higher costs to maintain supply chains, and rising investment to match new competition has pushed retailers to employ artificial intelligence and automation. This move has given the essential tools to the team, who can now efficiently manage the in-house marketing activities while devoting their time to creativity, strategy, and understanding of the customer.  
AI automation essentially optimizes the campaign based on real-time and accurate campaign performance prediction, making retail marketing more proactive than just reactive.  
This methodology has significantly increased personalization, gained better customer engagement, and generated greater revenue. 
North Face uses IBM Watson to aid shoppers in finding the perfect clothing. The intellectual computing technology asks customers a few questions and makes recommendations that suit best based on your answers. Similarly, Sephora uses Color IQ, which allows you to walk into a store, scan your face, and get personalized makeup recommendations. 
AIOps is slated to become a norm helping increase efficiency of the backend systems and converting the IT department from a support function into a business goal-driven proactive organization. 
Learn more about AIOps capabilities. Download our whitepaper AIOps in Monitoring: An Introduction to AI for IT Organizations
Conversational AI - a set of technologies that use automated messaging, speech recognition, and machine learning (ML) to talk with users naturally and personally - plays a vital role in a brand's growth. The global Conversational AI market is expected to reach US$14 billion by 2025 (a Deloitte study) as e-commerce companies will use the power of Conversational AI to capture and qualify leads faster, provide cross-functional support, and answer queries immediately.
4. Augmented reality facilitates buying decisions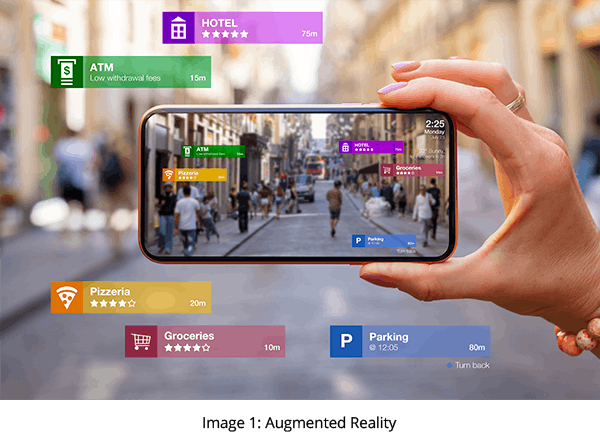 The global lockdown made businesses push boundaries to retain existing customers and attract new ones. Augmented Reality (AR) is set to level the playing field by helping customers make informed buying decisions, in-store or at home.  
What does AR do? Simply put, it facilitates the three-dimensional visualization of digital objects in any given physical space. In retail, it allows a brand to enhance the shopping experience for its customers by providing a true-to-life understanding of products. 
The Augmented Reality market is predicted to reach $61.4 billion by 2023. According to a Wikitude report, 32% of shoppers are regular AR users. The report also suggests that 73% of smartphone AR users are highly content with the experiences. Such Augmented Reality retail statistics prove how the market has accepted the technology and is exponentially growing with its help. 
IKEA, for instance, uses its AR-built application to help its customers virtually place furniture in their homes; several apparel stores are implementing virtual 'try-on' solutions; even more, companies are using AR filters on Instagram and Snapchat to increase brand presence.  
5. Buy Now, Pay Later (BNPL) will transform online shopping 
Millennials are likely to be a big chunk of the target audience for the brands and main drivers of e-commerce growth. The interest-free BNPL installments and similar flexible payment options are likely to resonate more with millennials. 
Forbes observes that the younger generation, including Gen-Z and millennials, are more debt-averse than the preceding generations. That's why the short-term and interest-free nature of BNPL contracts is more likely to appeal to them, offering an intriguing middle ground to using credit cards and paying upfront. 
Klarna and Sezzle are among the companies that empower shoppers with these installment capabilities. Stormy Kromer, a US-based cap and clothing manufacturer, uses Klarna to offer four interest-free payments. (image below)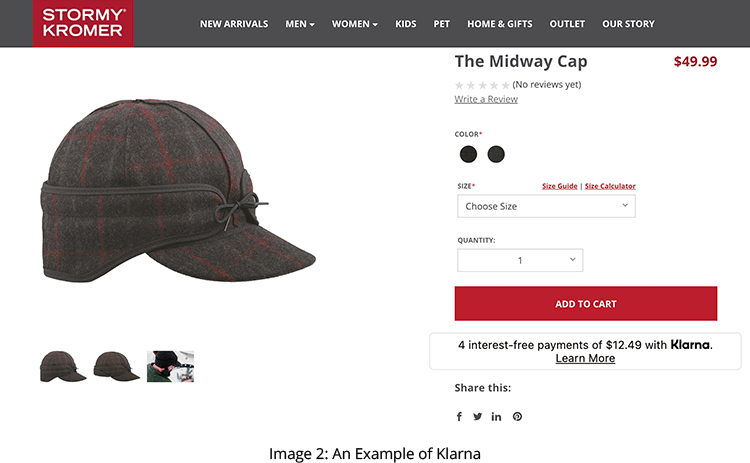 6. Supply chain optimization:  
2021 saw the ordinary consumer heavily dependent on home deliveries, bringing with it a whole new parade of supply chain issues. While the pandemic undoubtedly was the catalyst, the longstanding weaknesses in the supply chain infrastructure and strategies also provided the perfect disruptive conditions.  
As per Invesp, 57% of businesses do not have decent visibility across supply chains.  
While unforeseen challenges across shipping and delivery processes may disrupt the process, 2022 would necessitate more robust supply chain management software and resilient supplier risk management strategies to build an agile supply chain. At AIM 10X Global 2021 event, Henkel, a German chemical and goods company, shared how they achieved a competitive edge using AI and ML, by creating an end-to-end digital twin of a mass supply chain that is agile and data-driven.  
Read how a holistic inventory and data access system enabled a multinational corporation to gain automated, high-quality data for consumption. You can read all about it in our case study: Ace Your Inventory KPIs with Cloud-based Automation, o9, and BEAT  
Endnote: 
To conclude, the world of retail and e-commerce is continuously changing to meet its end goal - making customers' shopping experiences easier, seamless, and more enjoyable. Digital businesses can expect a plethora of new and exciting technologies in the future that will create a huge leap forward in the way to market and showcase their products. They need to ensure that their e-commerce websites are optimized and ready to integrate these technological trends before it is too late.