Adobe Summit 2022 had everything to quench the thirst of the experience-centric brands. The world's largest digital experience conference opened a virtual world of valuable content and opportunities for anyone wanting to learn from ever-evolving best practices. It opened doors and minds where experience practitioners received guidance on how they could put their ideas into action.  
The conference featured 300+ keynote sessions by luminaries, celebrities, and industry leaders such as Walgreen Boots Alliance, BMW, Nike, and Parada group. They shared their knowledge on digitizing their brands and the relevance of personalized customer experiences. BMW, for example, plans to invest 3 million dollars in digital sales and marketing per year, expecting to receive 25% of their returns from online marketing. Dr. Jens Thiemer, the CEO of BMW, mentioned that 30% of car buyers are comfortable buying online. Therefore, the brand is focused on delivering 'phygital experience' to its customers by giving parallel attention to both platforms – physical and digital. 
GSPANN hosted 13 fishbowl sessions, engaging with over 60 attendees and sharing our learnings through the years while implementing Adobe Experience Cloud and its solutions.
GSPANN's Offerings
Praveen Chandra, Digital Marketing Leader at GSPANN, spoke about the value of the Customer Data Platform and its role in crafting engaging journeys, thereby building personalization solutions.   
Rama Aluri, Sr. Vice President and Business Head at GSPANN, conducted an interactive one-on-one session where the attendees learned about best practices and implementation from one of our industry leaders. 
Our Digital Marketing experts, Satyam Kumar and Shruti Pandeya, enabled attendees to get better conversions using Adobe Campaign and Adobe Marketing channels through their fishbowl sessions.  
Focused sessions on Adobe Experience Manager (AEM) included integrating custom applications, commerce integration framework (CIF) for a rich omnichannel experience, using Solr and Algolia for better search experiences, maximizing the value of digital assets, accelerating product recommendation and onboarding for B2B and B2C e-commerce, implementation of AEM as a cloud service, and automating compliance workflow. These sessions were conducted by our content management experts - Ajay Tiwari, Gopi Dakarapu, Murali Vusthipalli, Deepak Shaw, Neeraj Pandey, Saikrishna Kuturu, Sai Thadoju, Satyanand Miriyala, Venkatrao Gollangi, and Preetpal Singh Bindra.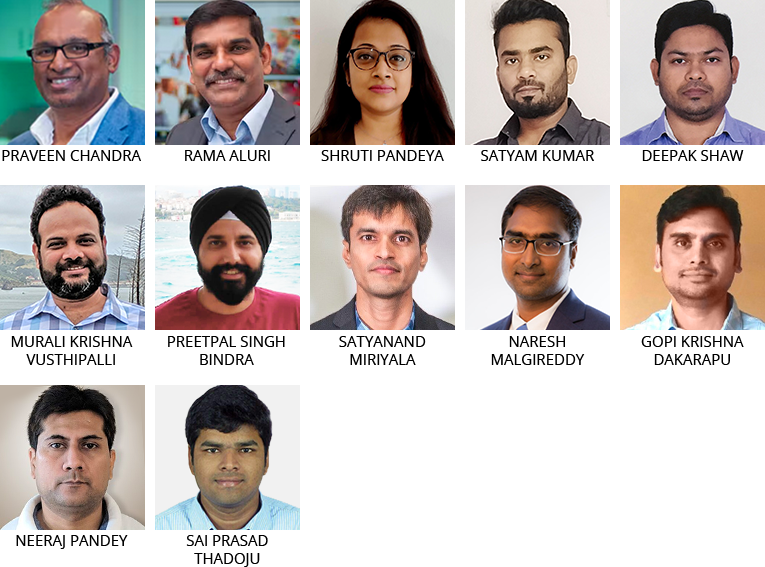 A huge shout out to all our presenters!
Free Guide to Thriving in a Cookieless World 
With the cookieless world approaching fast, GSPANN offered a MarTech playbook to everyone in attendance that features data strategies and new tech tools that will help brand redefine their marketing strategies to thrive in a privacy-first world. 
Giveaways 
The attendees who participated in our raffle game also got a chance to win an Apple AirTag! We gave away these cool, handy Bluetooth trackers to 50 lucky people who registered in the giveaway contest!  
Adobe Experience Cloud Innovations 
"Adobe Experience Cloud is the go-to personalization engine in the digital economy, empowering every business to engage deeply with their customers across all digital channels."
- Anil Chakravarthy, President, Digital Experience Business at Adobe. 
According to the Adobe Digital Economy Index, e-commerce spending is projected to surpass $1 trillion in the U.S. alone this year. Adobe announced the following innovations to empower businesses to build and deliver personalized experiences at scale.
Adobe Experience Cloud apps are now powered by Adobe Experience Platform (AEP). 
Cross-cloud integrations like Adobe Creative Cloud, Adobe Document Cloud, and Adobe Experience Cloud will empower brands to tell powerful stories and meet personalization demands in the digital economy. 
Adobe Real-Time CDP and Adobe Target integration will enable brands to personalize millions of web experiences in milliseconds. 
Adobe's new cloud-based learning platform, Adobe Learning Manager, will allow businesses to create engaging digital learning experiences for customers, partners and employees. 
AI (Artificial Intelligence) integrations in Adobe Sensei, Adobe's AI engine, will allow brands to personalize content, predict customer behavior, and transform data into actionable insights. More than 80% of Adobe Experience Cloud customers use Adobe Sensei. 
New integrations in Adobe Creative Cloud and Adobe Experience Cloud will prepare brands to deliver immersive experiences necessary to succeed in the Metaverse. 
Sneaks from Adobe's Research Labs: 
This year's Summit Sneaks featured some exciting tech projects that align with Adobe's overall theme of personalization. While a lot of them are in the works, we can't wait to see some of these realized: 
Project Demand Detector: This feature would alert product managers about sales spikes with certain products or product lines, bringing them closer to understanding product trends and making quick decisions about products. 
Project KPI PoP: This AI causal model pulls out hyper-focused KPIs, saving your time by allowing you to see only the critical data. 
Project Right Sized: This AR-led feature will take away the consumers' biggest pain point of not getting a clear idea of product dimension or whether the product will look good placed at the intended area.
Project Style Blast: This tech will help marketers create better, more personalized emails by making content and theme recommendations based on data.  
Project Design Decoder: Designed to help online shoppers with visual issues (colorblindness or lower vision), this solution showcases true features of a product, enabling shoppers to make more informed buying decisions and cut back on returns—a win-win for shoppers and retailers.  
Conclusion 
Adobe Summit was an exhibition of the possibilities the Adobe Experience Cloud brings with it. The Summit also became a boiling pot of conversations and discussions catalyzing future collaborations among companies from across the world. At GSPANN, as we eagerly await the next Summit, we are excited to plug our learnings into our implementations and help our clients provide exceptional experiences to their customers.