For over two decades, GSPANN has been co-creating the best possible content, marketing, and commerce solutions with our B2C and B2B clients. We use our Adobe expertise to optimize IT capabilities, practices, and operations for exceptional customer experience.  
As a long-standing Adobe partner, we welcome you to meet us live at the conference, with a mission to help your company reach the desired business goals. Be sure to visit our exhibition booth to discuss your challenges with our subject-matter experts and get new and innovative ways to take your digital experience from good to 'OMG, this is awesome!'  
Our Adobe experts will help you turn an average customer experience into something extraordinary by inducing customer delight at every touchpoint. 
We help organizations get the most value from their Adobe investments by providing marketing, commerce, and customer engagement solutions that integrate and optimize Adobe Experience Manager, Adobe Analytics, Magento, Adobe Audience Manager, Adobe Target, Adobe Campaign, and other platforms.
Meet our representatives: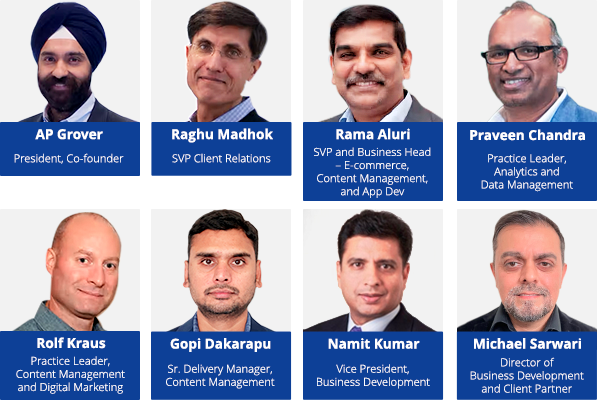 Here are ten reasons to visit our booth #1013 at the Adobe Summit
Reason 1: Learn the hidden secrets to quickly implement Adobe Experience Manager as a cloud service
Reason 2: Learn to choose the right integration patterns for Adobe Experience Manager and e-commerce integration
Reason 3: Learn to build a unified customer experience leveraging Adobe Experience Manager
Reason 4: Learn to maximize the value of your digital assets using Adobe Experience Manager assets 
Reason 5: Learn to accelerate new product onboarding using AEM with PIM for B2B and B2C
Reason 6: Learn to use Adobe Experience Manager to automate compliance workflow for Fintech
Reason 7: Learn to use content, digital assets, and commerce solutions to deliver better and personalized customer experiences
Reason 8: Learn to grow brand engagement that increases awareness among prospects and loyalty among customers
Reason 9: Learn to understand your prospects and produce relevant and actionable personal engagements
Reason 10: Meet with our leadership and gain from their extensive knowledge of co-creating personalized customer journeys with multiple global brands
Reason 11 (Bonus): Come by our booth #1013 to collect your environmentally-friendly, grocery, and swag-ready jute bag
Reach out to us at marketing.team@gspann.com