Economies globally are readjusting to new realities to reduce the impact of the pandemic's blow. This readjustment is two-way—rebuilding strategies and renovating the technology stack—companies must align these to improve their connection with the customer.
The world's leading brands (B2B and B2C businesses) across industries adopt Salesforce Commerce Cloud (SFCC) to establish a meaningful connection with their customers. They focus on transforming buying experiences, inducing personalization, exceeding customer expectations through artificial intelligence, and omnichannel interactions. They widely use Salesforce Commerce Cloud's capabilities to handle massive orders online, allow fast checkouts, and meet unique industry-specific complexities.
Some of the major brands in the SFCC roster include Columbia Sportswear, Lululemon, Ralph Lauren, Adidas, Callaway Golf, Bossini, Boggi Milano, e.l.f. Cosmetics, ECCO, Cole Haan, L'Oreal, Lacoste, Lancome, Pandora, and many more (Source: www.featuredcustomers.com). All these brands in some way use, what Salesforce calls, the "Salesforce Formula for commerce success."
Salesforce Commerce Cloud (SFCC) Overview from the Past Year
Last year, SFCC supported businesses in ways that made stories. It enabled them to respond with resilience and build themselves again around the customer. SFCC gives a single view of the customers, enabling you to embed commerce in every touchpoint of your customer, building a natural path for the buyer towards your brand. It also offers strong product support to help you make the best use of this platform and work seamlessly towards revenue growth. Some of the exceptional, decision-driving features of Salesforce Commerce Cloud that came in handy after the pandemic outbreak include inventory management support, fast content disbursal, order fulfillment, customer service, and personalization.
Here are some specific SFCC capabilities that some of the market's major players use to unlock fast-paced growth in these less-predictable times. Take a glance.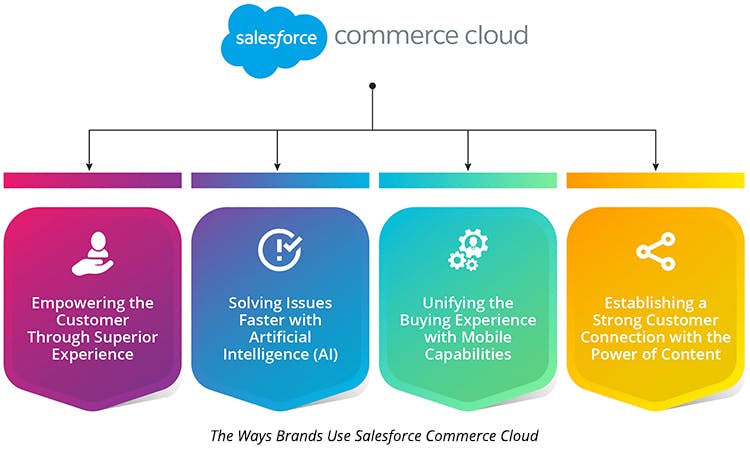 1. Empowering the Customer Through Superior Experience
Customer experience is a highly competitive area. With several brands vying against each other, the competition is neck and neck. The best way to deal with it is to empower the customers and bring them what they want, when they want, and wherever they want.
Customers go through multiple touchpoints in a multi-level journey fraught with channels, just to communicate with your brand. As the customers spread across widely, get your act together by syncing the inventories, pricing, product availability, and blurring the boundaries dividing the physical and digital worlds. A customer might want to explore a brand's collection online and choose to purchase it from a nearby outlet. Customer empowerment is necessary.
Salesforce Commerce Cloud for Customer Experience
Customer experience is a significant brand imperative that marketers achieve by using SFCC to unify data and technology, building a robust solution-based architecture. It helps them build their service around their customers while keeping them central. Irrespective of where the customers are, they get speedy and contextualized services.
For instance, Markem-Imaje—a Dover company (B2B industry) is a France-based equipment manufacturer in the packaging industry. Their service portal is built on the SFCC platform. They made good use of SFCC platform during COVID-19 by empowering their customers to place quick and easy reorders, track shipments, follow the tasks, or request-a-service intervention without involving any service agent or sales representative. They have strong connectivity across the ordering process and automation that make the customer experience seamless. They clocked a growth of 449% in quarterly B2B e-commerce orders. (Source: salesforce.com)
2. Solving Issues Faster with Artificial Intelligence (AI)
Artificial Intelligence (AI) can address more real-life challenges than we are perhaps aware of. It can help automate and optimize the processes, predict issues, work on forecasts based on data, and muster human control over decisions since any recommendation made through AI can be discarded through human intervention. It majorly helps businesses become more predictive about their customers and keep the business in control by identifying the customer behavior trends that you can act upon. You gain an extensive and deeper understating of your customer to make the right offers at the right time.
"50% of consumers say they're likely to switch brands if a company doesn't anticipate their needs, and 58% of consumers say technology has significantly changed their expectations of how companies should interact with them." (Source: Personalization in Shopping, by salesforce.com)
Salesforce Commerce Cloud (Einstein) for Artificial Intelligence (AI)
Salesforce Commerce Cloud's AI-powered Einstein is optimizing processes for marketing with its predictions and recommendations. It makes the most relevant suggestions to each customer, keeping them engaged and returning for more products of their choice. Marketing is empowered for smarter scoring, building an audience based on future actions, offering the next best products, automatically sending relevant messages to customers.
For instance, Stonewall Kitchen, an awarded specialty food company in America, uses SFCC to serve shopper recommendations with Einstein and maintain a close relationship with its customers. Salesforce Commerce Cloud's Einstein serves Stonewall Kitchen's online users as a sales assistant, by pulling up unique recommendations for them, based on their purchases and browsing behavior. These suggestions worked well for them, as 78 percent of shoppers added the suggested item to their cart, while 41 percent went ahead and purchased the item.
With SFCC-powered Predictive Analysis, they successfully increased the conversion of products by showcasing new items. This helped them move the slow-moving products fast.
3. Unifying the Buying Experience with Mobile Capabilities
Mobile commerce isn't a new trend; it is an extension of what has been around for a decade. As people spend more time on mobile, fast becoming disrupted, mobility is a natural progression for e-commerce. Capturing the customer on mobile and turning the opportunity into a revenue stream is imperative for the CMOs today.
The global mobile payment market size was valued at $1.48 trillion in 2019 and is projected to reach $12.06 trillion by 2027, growing at a CAGR of 30.1% from 2020 to 2027. (Source: Allied Market Research)
Salesforce Commerce Cloud for Mobile Commerce
Salesforce Commerce Cloud is helping brands convert browsers into buyers on mobile. Its mobile-first capabilities work towards optimizing the micro-moments for the buyers, fast checkouts with one-touch payment, building a personalized, unified, and cohesive buying experience across the mobile, social, digital, store, and more.
For instance, a leading global activewear manufacturer migrated its e-commerce platform to Storefront Reference Architecture (SFRA). This migration helped them achieve exceptional sites performance, deliver superior customer experience, and obtain more than 2X growth in mobile conversion, year on year, across all the brands.
4. Establishing a Strong Customer Connection with the Power of Content
Content strategy has grown its branches into targeted, cross-channel communication with a personalized approach. Brands need a robust technology base that stitches their content strategy with their purpose, across a buyer's journey, also helping them emerge as an empathetic brand. Read how to be an empathetic brand in 2021 to succeed in the market.
Salesforce Commerce Cloud (Page Designer) for Content Management
Salesforce Commerce Cloud's Page Designer is a great enabler for companies who want to create and manage their e-commerce sites dynamically and fast. It lets you create engaging and memorable e-commerce experiences at the drop of a hat, with its drag-and-drop feature for designing, scheduling, and publishing pages. Its reusable components and layouts keep the content management easy, while the preview and schedule content features keep every bit of content in your control. Read more about how you can implement Page Designer in Salesforce Commerce Cloud.
Run time-sensitive campaigns, flash sales, roll out personalized content when the customer needs it, and meet every other content requirement that hinges on time.
Staying relevant in a world that has seen more change than the whole past decade put together calls for innovation. Some brands have already set their foot in the new ground, leading the wave of tech transition. Brands joining this league will be better situated to capture a larger audience for their business and establish a stronger connection with their customers.