E-commerce is gaining pace as a major force in the global economy. It will be valid to say that the online market is growing rapidly vis-à-vis the traditional markets. This makes it exceedingly important for any business to develop a strong online marketing strategy since the brick-and-mortar stores are not enough to provide for bulk sales.
Over the last few years, e-commerce market has grown a great deal and all the merchants are adopting e-commerce to increase their business. There are many benefits for a merchant to have an e-commerce website: no geographical limitations, 24/7/365 potential income, relatively low financial investment, reduced travel time and cost, enabled deals, coupons, campaigns, promotions, etc.
While there are multiple platforms that offer software solutions for e-commerce like BigCommerce (best for small business), Shopify (best for boutique shops), Magento, etc., but after Salesforce acquired Demandware in July 2016, Salesforce Commerce Cloud has become the future of e-commerce.
This article can help you to understand some of the key features of Salesforce Commerce Cloud and what truly makes it stand-out in the e-commerce business while evaluating and choosing the right e-commerce platform to suit your business. Let's take a look at what makes Salesforce Commerce Cloud function with an upper hand in the business.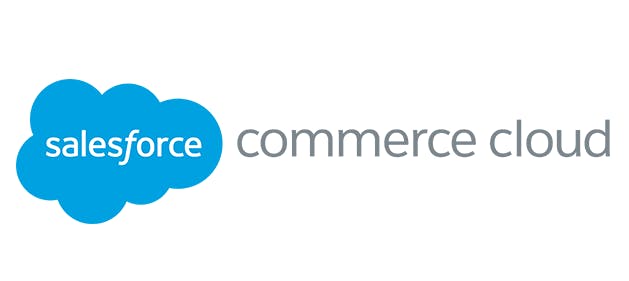 How will a Salesforce Commerce Cloud platform benefit your business?
In addition to providing scalability and protection to your data, the Salesforce Commerce Cloud platform, which is hosted in the cloud, offers a handful of operational benefits and business tools. These include:
A software-as-a-service (SaaS)-based, fully managed multi-tenant platform.
Very strong native merchandising features.
Page builder solutions – designed to give more control to the merchants over templates and content.
1:1 level personalization and machine learning applied across various areas via Commerce Insights/Einstein.
Strong features around managing multiple products, catalogs, inventory, orders, customers, online marketing, search settings, SEO, and complex product data.
Efficient omnichannel features: order management, endless aisle, etc.
Built-in A/B testing capabilities for merchandising which can be really powerful to take care of crucial aspects like merchandising logic, promotions, base sorting logic, etc.
Native features around internationalization (native multi-currency, multi-language, and multi-store capabilities).
Core points of Salesforce Commerce Cloud
1. Mobile-first design:
Recent industry trends have made it clear that a greater percentage of shoppers are making purchases directly from mobile phones and tablets instead of laptops or desktops. Salesforce Commerce Cloud is designed from a mobile-first perspective and aims at providing optimum experience to mobile shoppers.
2. Merchandising and catalog management capabilities
This is one of the biggest areas that helps Salesforce Commerce Cloud in winning the deals over other platforms, particularly in fashion and lifestyle space where they are practically the market leaders. Features included in this segment are:
Support for complex product types (master products, variations, bundled products, product sets, grouped products, optional products, etc.)
Advanced visual merchandising.
Ability to schedule tasks (such as the publishing of new products, etc.)
Advanced campaign (based on customer groups, enables campaign scheduling, and offer coupons), promotions (product shipping and order level).
Ability to create multiple catalogs.
Einstein provides various layers of personalization across the platform.
3. Internationalization
Salesforce Commerce Cloud allows the users to manage multiple storefronts from a single back-end platform. The platform manages multi-currency, multi-language, and multi-brand processes.
Salesforce Commerce Cloud also manages product data (with pricing, product availability, etc.) separately on each store and supports various payment and billing complexities.
4. Omnichannel capabilities
Salesforce Commerce Cloud unifies e-commerce, order management, and offline store operations in one SaaS solution. This platform focusses heavily on enabling the retailers to run their business across multiple channels (e-commerce, social, mobile, etc.) from a single platform and is widely respected for streamlining the operations, sales, and fulfillment at scale.
Salesforce Commerce Cloud also lets the merchants implement their services (such as 'buy anywhere, fulfill anywhere') via their order management solution, which offers various flexible purchasing options to the shoppers, including in-store pickup, ship from store, etc.
5. Commerce Insight – machine learning, in-line reporting, and personalization via Einstein AI
Salesforce Commerce Cloud gathers data and insight into a shopper's behavior via Einstein and uses that information to personalize their product ordering and product recommendations. Einstein provides both 1:machine learning and 1:1 personalization in the product grid (as an additional layer to merchandising), product recommendations, and search.
6. Salesforce Commerce Cloud support
Salesforce Commerce Cloud provides a comprehensive 24/7 support for all merchants that is not just limited to the core code issues. Salesforce Commerce Cloud handles everything from core upgrades to security patches, which is very compelling to a lot of retailers.
Check out some of the strong features of Salesforce Commerce Cloud:
Flexibility around SEO
Control over redirects (rule-based and page-level)
Allows rule-based and machine-learned cross-sells, up-sells, and product recommendations through Einstein - predictive intelligence
Advanced search features
Very strong visual merchandising capabilities
Manual and machine-learned product recommendations
Advanced customer segmentation
Comprehensive email management (transactional emails, etc.)
Lots of platform-level integrations supported by Salesforce Commerce Cloud
Strong reporting
Comprehensive APIs, documentation, and knowledge exchange forums for developers
Based on GMV-Model which favors merchants
Overall, it would be safe to call Salesforce Commerce Cloud a very strong, scalable e-commerce platform with lots of native capabilities around merchandising, multiple store management, internationalization, and customer segmentation. This platform is commonly used by fashion and lifestyle brands and it offers various features like advanced merchandising, endless aisle, point-of-sale (POS), internationalization features, machine learning across core areas, and proven cloud-based solutions.
The decision to choose Salesforce Commerce Cloud entirely depends upon the nature of your business, priorities, the amount of freedom and customization required, and the amount of agility you want in your platform. If you don't want to manage your own infrastructure and require a really strong, proven cloud-based platform, then Salesforce Commerce Cloud will make a good choice for you.