Worqference 2023 was the 7th virtual international conference by The Test Tribe. The fusion of conference and workshop offered an excellent opportunity for 1200+ to learn from the greatest minds in the quality assurance and engineering space.
The event hosted 15 workshops from 18 speakers with unlimited knowledge and expertise. From new tech trends to professional improvements, they had it all covered. The active participation of the audience and incredible engagement were palpable throughout the conference.
We were represented by Ajay Balamurugadas, Sr. Director – QE, who conducted a session on 'Mental Models for Testers to Improve Decision-Making Skills'. His session focused on the fundamentals of using mental models to add intuitive perception to conduct good testing.
In a highly engaging and interactive session, Ajay conducted numerous exercises before and after the session, ensuring the possibility of applying the lessons in life in general. The audience showed the maximum level of participation and engagement - the session chat box was filled with audience enthusiasm.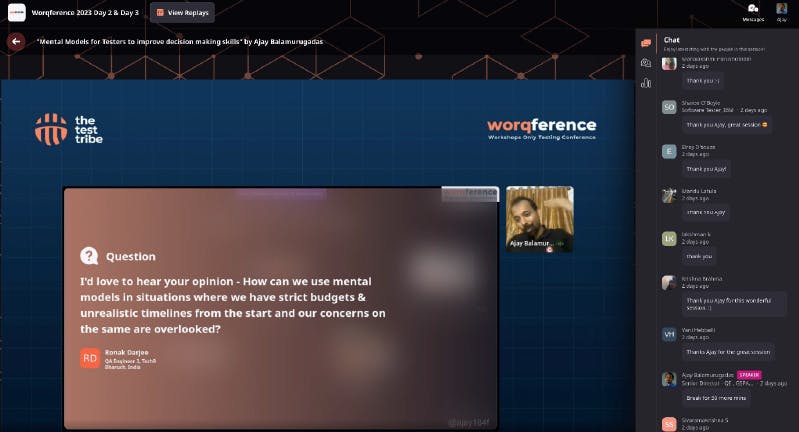 The mental model represents reality, and learning different models can help with general problems in life. Some mental modes that testers can apply to resolve issues include Inversion, Framing, Second-order Thinking, Map vs. Territory, Opportunity Cost, etc.  
This workshop was a gold mine for anyone looking to dive deep into techniques to think clearly and logically. It would help hands-on testers get better at decision-making; leads and managers to solve problems by gaining multiple perspectives; and improve a thinking process in the time of adversity. 
It was a great learning weekend for the software testers worldwide!