Our team designed and implemented a component capable of predicting potential shortages up to a nine-month horizon. This innovative tool enables the company to proactively mitigate risks by considering numerous factors from demand and supply-side data streams. The tool utilizes a comprehensive range of inputs, such as "no substitutes," country of origin, lead time, and worldwide availability.
This solution enables stakeholders to analyze and manage potential shortages effectively, optimizing procurement strategies and enhancing overall company operations. They prioritize parts based on their business impact, and our model produces a ranked list of parts in short supply.
The application executes the model to generate a list of components that may face shortages within different timeframes, such as the current month, 1-3 months, 3-6 months, 6-9 months, and so on. It uses a threshold to identify these components, increasing the vulnerability of the population likely to experience shortages within each specified timeframe.
It applies a filter to the parts yielded by the model to bring the list to a more manageable level. It then applies a ranking mechanism to the parts on the filtered list. The mechanism identifies parts with the most prolonged delays and their impact on total revenue, to which it applies a scoring system. The model generates a score that predicts the likelihood of a part shortage with a confidence level ranging from 60% to 100%.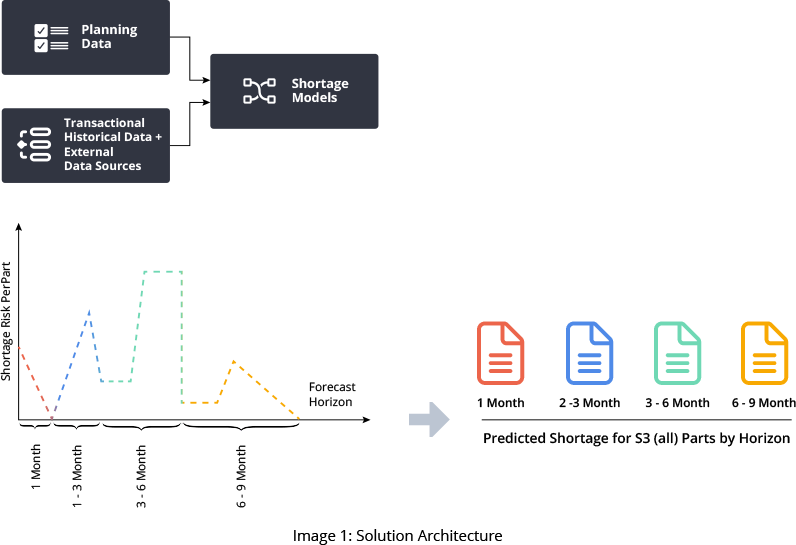 Key highlights of our solution include:
User-friendly data visualization: Our solution provides stakeholders with a Microsoft Power BI dashboard, which allows the alternate parts team to download ranked lists and view associated metrics. Power BI is an interactive business visualization tool that provides feature summaries and details of products on the ranked list.
Confidence-based ranking model: Our ranking model is based on reliable real-time data from both demand and supply data streams. The system filters out parts whose score falls below 60%, giving company stakeholders a clear picture of parts and products at risk due to shortages.