Project timelines were tight, and our team started the Design and Solution Architecture processes in parallel. On one track, our UI Lead was working with the company's business units to create a well-thought-out design that is both pleasing to the eye and easy to use. At the same time, our e-commerce architect worked with the company's subject-matter experts (SMEs) and engineering managers to understand their existing systems.
Our team concluded that the MACH architecture best suited the company's needs. MACH (microservices, API-first, cloud-native SaaS, and headless) is a set of guiding principles that uses a best-of-breed approach to build enterprise software technology stacks. Unlike monolithic architecture, MACH allows you to choose the technology that best meets current and future business needs.
While creating the designs, our UI team worked on analytics data to understand end-user likes and pain points. Our team adhered to simple, carefully selected visual elements while providing accessibility with an overall focus on developing reusable components.
A key part of the solution was the MuleSoft secure API gateway. This component provides a fast and secure API gateway. Even better, as Salesforce owns MuleSoft, it perfectly integrates with the company's existing Salesforce Commerce Cloud (SFCC) implementation.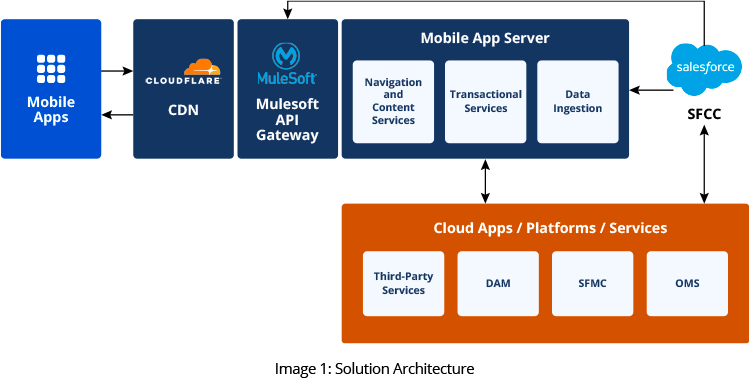 Frontend development tools used included Kotlin, Swift, and Storyboards. Mobile app connectivity is handled by Cloudflare CDN (Content Delivery Network), and SFCC handles backend content and e-commerce management.
Our solution teams were not only concerned with the mobile app development; they also built a CI/CD (continuous integration, continuous development) infrastructure. Mobile app development on iOS and Android, as well as middleware and microservices, followed an Agile approach using Jira for project management.
In brief, our solution:
Provides a flexible architecture that facilitates future innovation: PredictSpring, the company's former storefront platform, proved to be a bottleneck and was holding up the introduction of new and innovative features. Adopting MACH architecture allowed the company to shed its technical debt and overcome current framework limitations.
Provides a solid and reusable UI design based on empirical data: Our UI team did not just create a beautiful design, but also used analytics to gain insights into the user experience. The knowledge gained allowed our team to design an attractive UI using simple and reusable visual elements.
Improves API connectivity: Our team put together an implementation that provides the company with a secure, well-proven, and thoroughly integrated API connectivity platform.
Follows holistic best development practices: In addition to development, our solution also encompasses integration and delivery. The team followed the highly recommended Agile approach and used Jira to manage programming sprints.