As a foundational input to marketing, data has the power to make marketing accurate and precise. It's up to the marketer to find the most effective ways to gather, analyze, and leverage data to gain insights that help reach the right people at the right time—eliciting the best possible response.
Today's organizations use a diverse set of digital channels to reach their audience. Consumers today are aware, responsible, and want to invest their money in empathetic brands that understand their concerns and deliver a customer-aligned solution.  For example, Nike is telling its consumers to "play inside, play for the world." This campaign features renowned athletes asking everyone to stay inside until the world regains its health post-pandemic. 
In this blog, we explore data-driven marketing and learn how organizations use data to fuel their marketing strategies to overcome pandemic-driven challenges.
Get a Unified Product View and Reduce Time-to-Market by Integrating Stibo Systems PIM
Why You Need to Adopt Data-driven Marketing Strategies
A data-driven marketing approach optimizes brand communication based on customer information. It allows businesses to access, analyze, and compare customer information to personalize their engagement with customers which is shown to result in higher ROI.  
"78% of organizations say data-driven marketing increases lead conversion and customer acquisition" - ZoomInfo 
The future of this increasingly data-driven engagement is hyper-personalization. Today, in the same way that Netflix suggests a watch-list based on the movies or series you've seen in the past, your customers are now expecting the same level of personalization from all their vendors.  They want you to see, hear, and understand them.  Making this happen requires the implementation of personalization strategies at every point of the customer journey.  
While traditional marketing approaches require trials and errors to achieve results, marketing that data-driven insights enhance communications and personalized experiences for customer acquisition and retention with less effort and guessing. 
According to research conducted by Econsultancy and Adobe, only 45% of the marketers had a strategy to have unified marketing data, 32% had no data but had a strategy, while 23% had no strategy or data.  
The image below highlights the primary objectives that can be achieved from data-driven marketing strategies, as per the research.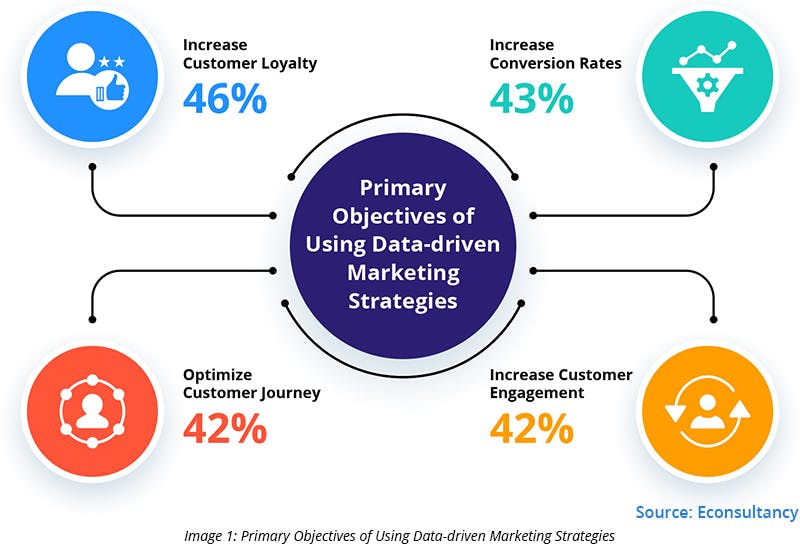 Top Five Data-Driven Marketing Strategies to Keep Your Brand Relevant 
According to Media Math, 53% of digital marketers believe that "a demand to deliver more relevant communications/be more customer-centric" is one of the top driving factors for companies who are investing in data-driven marketing.  
Here are some data-driven marketing strategies that the marketers are implementing to meet the increasing customer expectations within dynamic markets. 
1. Hyper-Personalization
Companies using hyper-personalization utilize sophisticated algorithms and big data to infer crucial details about their customers' needs and desires. It allows them to reach new audiences, predict behavior, improve precision targeting, and build stronger relationships by making the best use of implicit data (collected from data streams), explicit data (intentionally provided by the visitor), social media engagement, CRM, customer surveys, and more.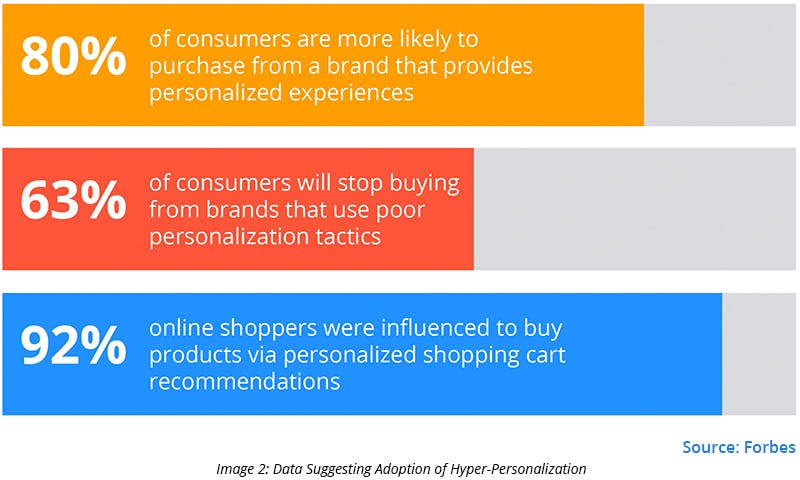 Here are some ways that you can adopt a hyper-personalization marketing strategy:
Personalized Marketing Ads: A buyer's journey harbors many potential touchpoints for personalization, like devices, interactive channels, time of the day when customers engage the most, etc. Brands can use data to personalize ad content, discounts, loyalty rewards, etc. for the customers to meet them at the right time.
Real-Time Support and Query Resolution: According to an Accenture report, 83% of businesses would have been better served had they delivered superior interpersonal customer service. Today's customer expects a personal touch even while using a live chat. Tools like Cobrowse can help in combining real-time experience and human relationships. The Dufresne Group, a Canadian home furnishing retailer, used the Cobrows technology to replicate their in-store experience online through live chat, resulting in 10x more sales in two weeks.
Read how GSPANN helped a US-based manufacturer of skincare products, with $1B annual sales, predict customer churn and retain customers with personalized emails using an ML model.
2. Predictive Data Analysis
Forecasting future trends, more so, understanding the ever-changing trends, is the need of the hour. Today, predictive data analysis plays a major role in delivering the best customer experience in many industries, especially the essential ones including grocery retails and supermarkets.  
 According to 360 Research Reports, the Content Recommendation Engine Market Size is expected to reach USD 2624.2 million by 2025, from USD 1340.5 million in 2019.  
With e-commerce giants like Amazon entering the sector, it was important for the retailers to battle the situation using predictive analytics. It allows players in this segment to build targeted promotions and loyalty programs, better optimize campaigns, predict demand, and suggest better replenishment strategies.  
Read how GSPANN enabled a US-based global brand of outdoor active lifestyle gear to personalize the customer experience through Adobe Target-based product recommendations. 
Spotify, a cloud-based music platform, saw a rise in monthly active users during the pandemic, and now stands at 345 million active users. It uses three ML recommendation models to tailor a unique playlist of music that surprises its listeners: Collaborative Filtering to make automated predictions about users' preferences by comparing multiple user-created playlists, using matrix math in Python libraries; Natural Language Processing to understand speech and text in real-time by trawling the web for articles, blogs, and other text on music to create a profile for each song; and Convolutional Neural Networks to increase the accuracy of the recommendation system by reconfiguring the facial recognition model into the one for audio files, ensuring that less popular songs are not left out. 
3. Data-Oriented Budget Optimization
Under-budgeting is as much of a sin as over-budgeting. Neilsen, a global marketing research firm, surveyed almost 200 marketing budget decision-makers at large B2C companies, having a $1M annual marketing budget in the US, and analyzed that the marketers can feel more confident about their budget decisions by following the following 2 data-driven approaches:
Marketing mix model, that uses past performance data to measure the effectiveness of digital and offline channels while accounting for exogenous factors to optimize marketing and spend properly. 
Multi-touch attribution, that uses individual-level data from addressable channels to calculate and assign fractional credit to marketing touchpoints along the consumer journey, enabling marketers to continually optimize in-flight campaigns based on the most accurate, up-to-date metrics. 
DoorDash, an online food order and delivery platform, evaluate their historical performance to decide the amount to spend on each budget. They use a machine learning platform to optimally allocate the budget to each campaign and publish bids to channel partners. The approach has helped the marketers optimize spend for users' lifetime value against one-time conversions, fine-tune and monitor performance, account for seasonal changes and anomalies, and lower the marketing costs by 10 to 30 percent while reaching the same number of customers. 
4. Powering the Business Landscape with AI
According to a recent survey conducted by PwC, a global research firm, 86% of companies say AI has been their "mainstream technology" and that their investments are paying off in concrete ways, with benefits ranging from revenue growth to better decisions and improved customer experiences.   
Artificially intelligent systems constantly work on the background of popular products and services such as Netflix, Amazon, and naturally, Google. 
Here are some areas that you can consider leveraging AI: 
AI-Powered Ads: According to eMarketer, Google controls 40.7% of the U.S. digital ad market, followed by Facebook with 19.7%. AI-powered systems can help advertisers test more ad platforms and optimize targeting. Companies can optimize their ad delivery by using third-party or in-house AI tools where ML algorithms can find new ways for optimizing your layout, copywriting, targeting, and bids. 
Albert, an artificial intelligence marketing platform, provides a service – autonomous media buying. This approach requires little human input while AI analyzes, manages, and optimizes paid ad campaigns. 
AI-Generated Content: AI-generated content uses data insights and writing style based on the rules and formats that serve best for your brand. Organizations can use natural language generation to create email content, personalized reports or messages, or social media post content. 
AI-powered marketing tool, Rocco, can suggest fresh social media content that your brand's followers are likely to engage with. 
Churn Prediction: By modifying churn ML algorithms according to your business, you can create effective content for the disengaged users that are about to churn. AI can help you build a predictive model that indicates the stage churning person is in, giving you time to incentivize the customer to stay connected with your brand.  
Tools like Vidora provide intelligent AI-based churn prediction to proactively keep your churning customers engaged. 
5. Human-to-Human Marketing
The pandemic has changed the way consumers perceive a brand. They want a brand to go beyond what is agreed upon, take actions, and make decisions that are in favor of their welfare. This expectation may have also slashed the hypothesis that stated 'robots would dominate the future', since robots are apathetic and cannot build relationships the way consumers want from their brands.  
 Here are some ways that you can establish an interpersonal relationship with your customers: 
Humanize the bots: People are eager to embrace the latest technology, but simultaneously want personalized services. Your bots don't always need to sound impersonal; you can 'humanize' your bots by using casual and conversational language, giving your bot a name and a face, with maybe a little sense of humor.  
Train your agents to be friendly: Ensure that your agents are not always reading from the script. Train them to be casual yet responsible when responding to a customer. 
Engage via social media: Show the casual and friendly side of your business to your social media followers via comments, live chats, posting lighthearted content, etc. 
Read our blog to understand how brands can be empathetic and connect with their customers at an emotional level. 
As the companies compete against each other for customers' attention, hyper-personalization using big data analytics particularly appeals to the millenials, which can provide a distinct competitive edge to the companies. According to SmartHQ, millennial brand loyalty is increased by an average of 28% as a result of personalized marketing content.  
Endnote 
The marketers must pull off a balancing act while connecting with their customers on multiple touchpoints –ensure transparency while using the data provided by the customers and maintain compliance with the existing privacy laws and the ones appearing on the horizon. These strategies will help you add personality to your brand so that it is not lost in the constantly evolving business scenarios.