The GSPANN team analyzed the company's requirements and devised an effective solution to implement an OTP system. The solution makes logging into the company's e-commerce storefronts easier and does not require a user to remember any passwords. OTP login also helps in preventing fraudulent login attempts.
When a customer logs in with a username, email, or mobile number, an OTP is sent to the corresponding mobile number or email. To complete the authentication process, the customer must enter the received code on the login or registration screen.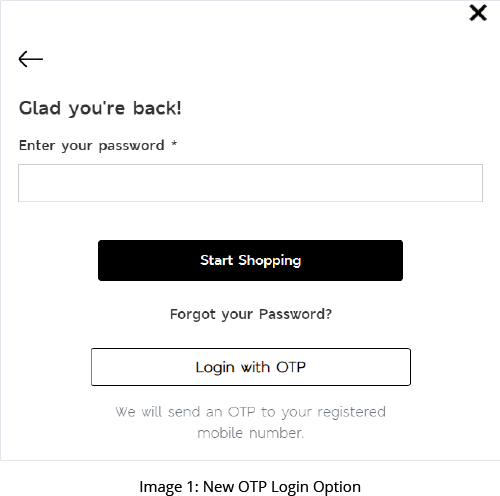 If the given email or phone number has multiple associated user accounts, the new solution lists all accounts and asks the user to select one primary account. Following the primary selection, other accounts will be marked as secondary.
An automated nightly job merges the order history and loyalty points of these secondary accounts with the primary account and deactivates the secondary accounts. This ensures that only the primary account is retrieved with all relevant order history and loyalty information at the next login.
Here are some high points in the solution:
Improved customer login experience: As part of the login, customers are prompted to enter either an email address or a phone number, which is checked for existence in the database. Users can log in using either a password or an OTP.
New account creation: If the system is unable to find the customer's email address or phone number, it redirects to the registration page for new account creation.
Eliminates duplicate accounts: When a customer logs in through social media, the SFCC system validates if a social media login account with the same email or phone number exists. If yes, the system does not create a new account as it did in the past.
Multiple social media accounts automatically consolidated: The new system does not ask the customer for any primary accounts if the customer has only social media login profiles. A new SFCC account is created for the customer, and the existing social media login accounts are deactivated.
Keeps up with current trends: Logging in via an OTP is becoming popular. By implementing an OTP solution, the company enhances the mobile customer experience and keeps up with industry trends.