After analyzing the company's requirements, our commerce team chose to replace the previous feed platform with Feedonomics, an e-commerce platform for managing and optimizing product data feeds. This platform allows the company to create, manage, and distribute their product data to various e-commerce channels, such as marketplaces (e.g., Google Shopping, Amazon, Facebook, and Walmart), comparison shopping engines, and affiliate networks. It can also optimize the product data, inventory, and price feeds for syndication on hundreds of search engines, social media platforms, and marketplaces.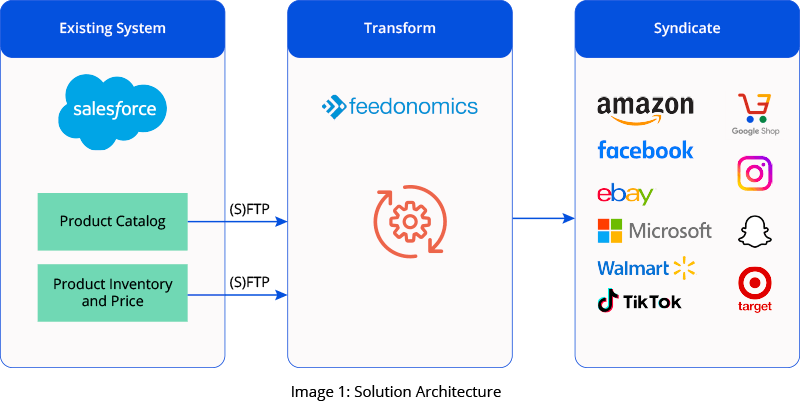 Our engineers used Salesforce Reference Architecture (SFRA) to integrate the company's existing Salesforce Commerce Cloud with Feedonomics. Here are a few key takeaways from our solution:
Broader reach: The new feed platform significantly expanded the company's product listings by offering them on different marketplaces, enabling the company to reach a much larger audience. This increased exposure had a direct impact on sales and revenue.
Easy to implement: The Feedonomics platform provided an SFRA cartridge that was easy to integrate and configure using the SFCC business manager.
Omnichannel optimization: The new system optimizes product data and syndicates it on hundreds of search engines, social media platforms, affiliates, and marketplace channels.
Enhanced functionality: The solution included an additional JSON feed format, improved optimization functions, and 24/7 local support, creating a more comprehensive and effective product feed management system.