Magento Imagine 2019 was the last standalone Magento conference and it will take on a different feel next year within Adobe Summit 2020. This year's event featured more than 100 sessions and 150 speakers to fuel opportunities in better harnessing the Magento platform.  Let's take a look at key takeaways from the conference.
Adobe's gentle acquisition
Adobe acquired Magento in 2018 to "strategically position themselves to deliver contextualized commerce experiences to help their customers transform into experience business". The transition was a perfect blend of services and products offering, making the whole process feel more like an evolution, if you may. It was beautifully depicted in the amazing wallpaper of Adobe ­+ Magento shown below.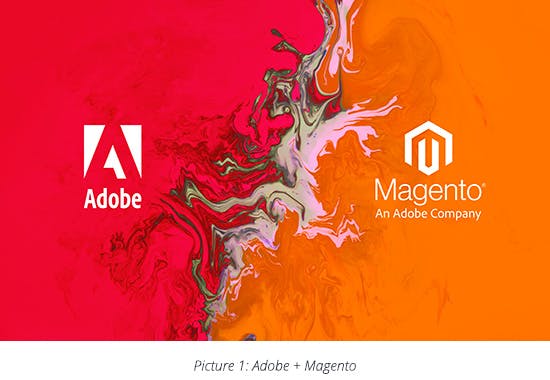 "I believe the next chapter, for all of us with Magento and Adobe, is an opportunity to build something amazing," John Stockton, senior director of commerce product at Adobe, told the audience of approximately 3,500 customer experience professionals. "Across every industry, and in both B2B and B2C, people aren't just buying a product, they're buying an experience. This is challenging each of us to make every moment personal, and every experience shoppable."
Expand the experience
You could see these words written all over the event – it was even their WiFi password! The sophistication of the customer experience being delivered by today's platforms is increasing. Magento is now laggard here, with the help of Adobe Sensei, it is now bringing advanced AI-based product recommendations for Magento retailers to help them learn about customer behavior, automated segmentation using data, and personalization of site content.
Celebration of achievements
During the Partners Summit, which also poured over to the main event, there was a strong call for solution and technology partners to find ways to cater the growing and evolving needs of the merchants and their customers. They emphasized the importance of certifications and how they can help the agencies to grow their business. A huge shout out was given to the awarded merchants, developers, and partners.
Progressive is here…
Maturing technology of progressive web apps (PWA) was hosted by Magento via workshops and keynotes. Since mobile traffic is overtaking desktop, companies like PWA Studios and Google highlighted the impact of educating the market about PWA and using new PWA tools to measure the site performance.
"By 2020, progressive web apps will have replaced 50% of general-purpose, consumer-facing mobile apps" - Gartner.
New Products in Adobe Commerce Cloud
Magento Commerce Cloud is now Adobe Commerce Cloud and an integral part of Adobe Experience Cloud. Merchants using Adobe Commerce Cloud will also get access to Adobe Analytics and Adobe Sensei (Adobe's AI and machine learning program).
Imagine Sneaks
Inspired by Adobe Summit Sneaks, Imagine sneaks showcased some great live demonstrations of community-driven innovations around the products that the partners and individuals have been working on for Magento. There were demos like AR (augmented reality) capabilities by Phoenix Media, Machine learning for product search by Webkul, Visual Designer by Perficient Digital, etc. Phoenix Media was declared a winner by popular vote.
The event also saw a large number of female keynote and session speakers from the community. Magento also explained the sunsetting of Magento 1 and gave some phenomenal insights into where retail and e-commerce are moving.