After careful consideration, our CMS team selected Algolia, a proven high-performance search engine to provide Search-as-a-Service (SaaS). It was extremely easy to work with and it began delivering value immediately.
It provided many critical out-of-the-box capabilities, including:
Global language support
Typo tolerance
Highlighting and snipping
Faceting
Synonyms
Advanced language processing
Geo awareness
Multiple sorting strategies
Grouping and de-duplication
Personalization
Our team created several AEM components that enabled content authors to configure multiple aspects of search behavior specific to the content. One of the most important components our team developed receives data from Algolia search and displays results for one or more query parameters. The AEM component is configurable by content authors to control search filter results.
Our team developed an AEM component Helper class that contained Algolia's basic key configuration. When the search page loaded, it invoked the AEM component. It sends customer search data via an AJAX POST request to Algolia, which returns an array of JSON objects pertinent to user actions and personalization.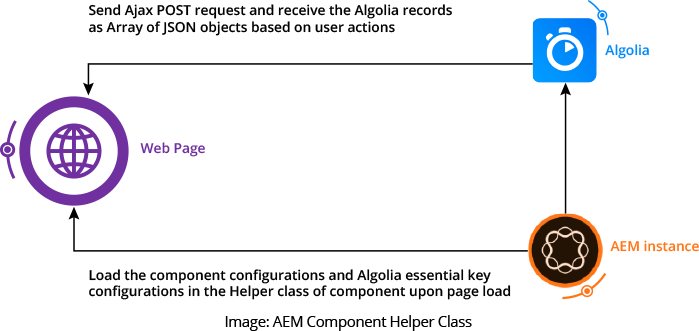 Key aspects of our solution included:
Improved site search response: Even though Solr provided a search response in two seconds on average, Algolia easily beat that time. Site search response time went down to under one second for most searches.
Gained fully commercial capabilities: Algolia provided essential capabilities such as synonym support, geo-awareness, and typo toleration, immediately improving the quality of the search results provided to customers.
Allowed customizable control over search results: The integration enables content authors to impose behavior from AEM into the Algolia search results, leading to better customer experiences.